This statue of Artemis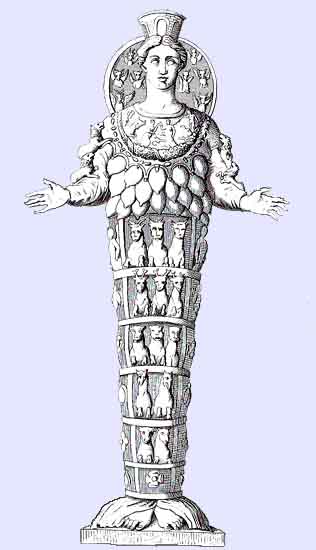 And This statue of Hera

are totally unlike

This statue:

So, while it is fair game to say that Greeks worshipped statues, do not suggest that the same is true of Catholics.

Got it?

Of course, I speak tongue in cheek.

The Apostle John had simple instructions: Little children, keep yourselves from idols.

Moses had simple instructions: Thou shalt not make unto thyself any graven image.

Has the point been made? Do you see where this use of idols came from? Do you see that it's wrong? Does my pointing this out, make you angry with me? I'm not that concerned about whether you will be angry with me or not, if you will turn from your idols to worship the living and true God in spirit and in truth.

We preach to you a gospel different from that which is preached by the man in third picture above. He labels his message "Christ Our Hope" - but he preaches a different Christ than the Christ that the Apostle Paul and we preach. The message of the man pictured above is dangerous for it encourages many souls to trust in religion and religiosity for salvation, rather than in Christ.

If there is a difference between the gospel of Rome and the gospel of the Reformation, to whom will you turn to resolve the matter? To your bishops? To our elders?

The only answer can be that we must turn to the Scriptures to see which group of men have the same gospel that Paul preached. Anyone can use the label "Christ our hope" (taken from 1 Timothy 1:1), but it is important to know the true Christ.

You may realize that simply reading the Scriptures will not be enough to ensure you get it right, for many before you have read the Scriptures and arrived at differing conclusions. What's missing, then, from my advice? Prayer. Pray to God to send His Holy Spirit upon you to give you wisdom to understand whether the religion of Rome or of the Reformation is true. Seek wisdom earnestly, for only a fool thinks he already knows all.

Many will say, "Lord, Lord," but will not enter into the kingdom. Do not be one of them. Take heed to your souls!

-Turretinfan